Hire Private Chef Yllan Laloum For Your Dinner Party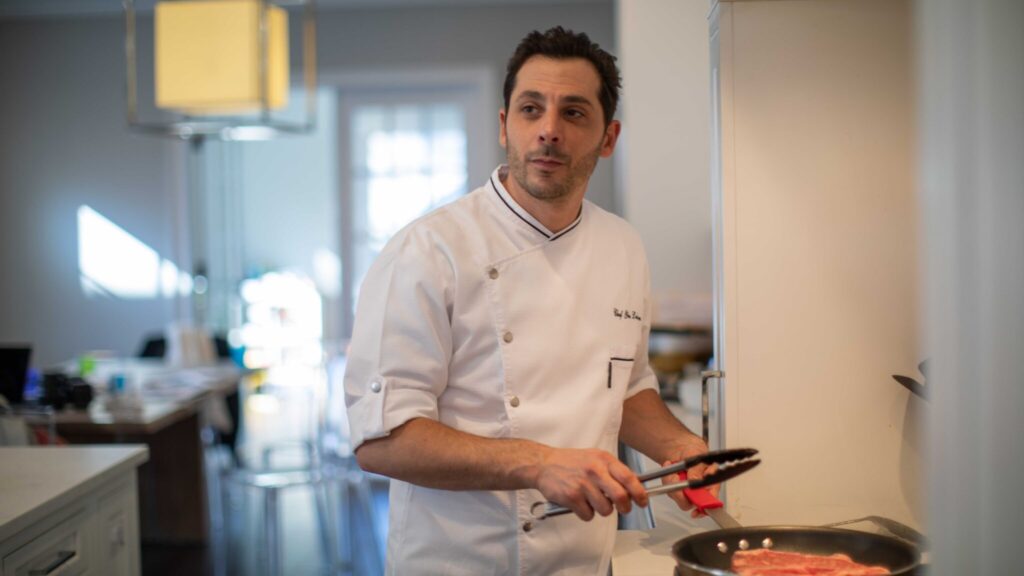 Host an event that your guests will never forget! We happily serve the greater New York area for dinner parties of ten people or more.
Yllan (Elan) Laloum is a Classically Trained French Private Chef living in New York City.
Chef Yllan graduated from Ferrandi, Europe's leading culinary institute, with a Certificate of Professional Aptitude (CAP). Chef Yllan has collaborated and trained with Michelin-starred culinary authorities such as Didier Oudil (Faubourg Saint-Honore, Paris) and Eric Frechon (Le Bristol, Paris) and has cooked for Celebrity Chefs including Eric Kayser and Emeril Lagasse.
Why Hire A Private Chef for Your Dinner Party?
You would like to host a Milestone event (Anniversary, Birthdays, Engagements, Date Night)

You're taking extra precautions because of COVID

You're overwhelmed by the thought of planning and cooking

You would like more time with your family

You would like to eat healthier

You have a special dietary restrictions

You are a new or expectant parent or recovering from a medical procedure

You prefer not to cook.
Then hire Chef Yllan and his team for your next dinner party! We will work closely with you to create a unique and unforgettable cooking experience for you and your guests.
Chef Yllan and his team often work with clients in the following areas and feel free to inquire about other neighborhoods in the Tristate Area: New York City (Manhattan, Brooklyn, Rye, Woodbury, Larchmont, Jericho, Briarcliff Manor, Syosset, New Rochelle), New Jersey (Hunterdon County, West Orange, Upper Montclair, Rumson, Upper Saddle River, Glen Ridge, North Caldwell, Short Hills etc), Hamptons (Bridgehampton, Sag Harbor, Quogue, Southampton, WestHampton, Amagansett, Sag Harbor etc.), Connecticut (Darien, Old Greenwich, Riverside, Westport etc.) and Long Island (Roslyn, Mill Neck, Old Westbury etc.).
Frequently Asked Questions
Do you offer Staff for Dinner Parties?
Yes, Chef Yllan has a trusted team of waiters, waitresses, bartenders, sommeliers and clean up crew to make sure that your event is seamless and stress-free.
Do you offer rentals for dinner parties?
No, we don't offer rentals but we can refer you to several vendors to provide tables, chairs, plates, linens, cutlery, glassware, serving ware and more.
Do you offer alcohol?
No, we don't offer alcohol but Chef Yllan has an extensive knowledge of wine that he can recommend to be paired with each course of the dinner. 
What are the supplies that I need to have on-site for the Dinner Party?
Chef Yllan will use some kitchen basics that you would most likely have on site including Olive Oil, Salt, Spices, Vinegar, Aluminum Foil, Saran Wrap and Storage containers. In regards to clean up, the client provides the cleaning solutions and supplies (sponges, dish towels). Private Chef Yllan would also rely on the client to supply tables, chairs, plates, linens, cutlery, glassware, serving ware as well as decorative elements.
Do you cook everything on-site or do you prep in advance?
When serving a party of 10 or less most of the prep is done on site unless a specific dish needs time to marinate or needs to be baked in advance. When serving more than 10 people, Personal Chef Yllan will take 1-2 days to prep in advance so that everything can be streamlined the day.
Do you offer any other unique services along catering?
As a French Chef who is classically trained, Chef can create a Traditional French menu to help you experience a bit of Paris in your home.
Do you offer Dinner Parties in NYC Only?
Currently, we cater diner parties at home in NYC, Long Island ( Mill Neck, Old Westbury) New Jersey ( Essex County, Morris County, Bergen County) as well as Connecticut (Darien, Old Greenwich, Riverside, Westport).
Private Chef Yllan also has an extensive knowledge of Cheeses so he can recommend a variety of cheese with different textures and consistency for a beautiful cheese plate.
Personal Chef Yllan can also help with floral arrangements so that all the small details are covered.